Looking for a lineup of cheap sports to ignite your kids' playful or athletic spirit? You're in luck!
Hey there, sports fans and budget-savvy parents! We all know that sports are a great way to stay active, make friends, and learn valuable life skills. But let's face it, sometimes it can be tough to find affordable options for our young athletes.
Well, fear not, because we've scoured the sports landscape to bring you a list of the most affordable youth sports out there.
From classics like soccer and basketball to some less conventional options, we've got you covered.
Whether your kiddo is a born athlete, or just looking to try something new, these sports are accessible to all. So let's lace up those sneakers and dive into the world of inexpensive sports!
The following is a list of activities that are great ways to get all of the benefits of sports without going over budget.
One of the most expensive aspects of sports is the cost of the gear required to outfit your little athlete. We've taken the time to include links to some great deals on sports equipment.
Table of Contents
Top Cheap Sports for Kids
There are many ways to save on sports equipment, from buying during off-season sales to purchasing your equipment used.
Keep in mind that for many purchases, investing up-front will save you money in the long run. Encouraging your child to take good care of their equipment can pay off later when they outgrow it, as it may boost its resale value.
1. Pick-up Basketball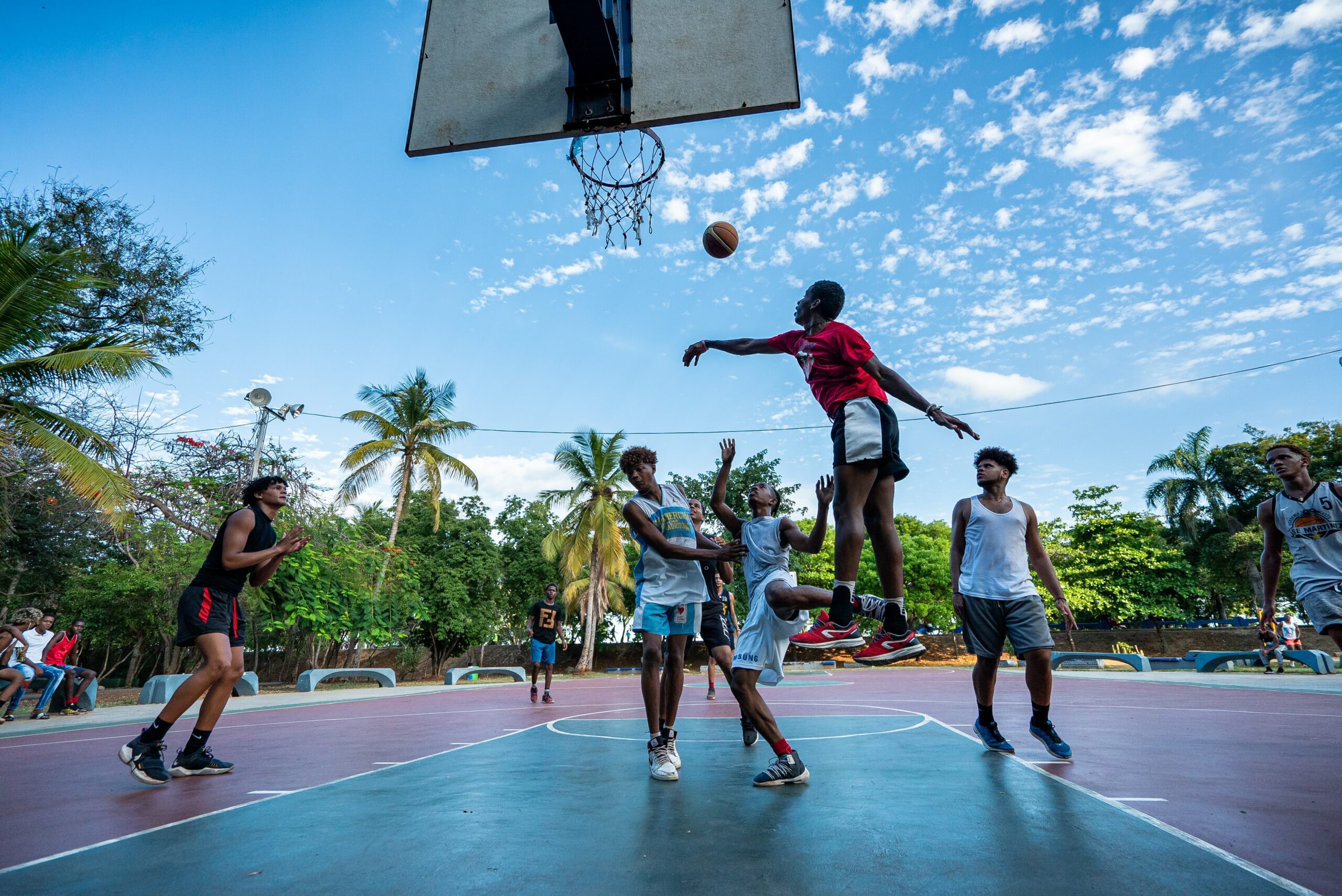 Photo by Kevin Olson on Unsplash
Cost Range: $50 – $100
One of the things that makes basketball a classic and beloved sport is the accessibility of it. Basketball is not only a way to get exercise, but it is one that can be practiced anywhere there is a basketball hoop.
Most parks have a basketball hoop, and pick-up basketball can be a great way to make new friends or connect on a deeper level with current friends.
All you need is a basketball and some sturdy basketball shoes, making pick-up basketball one of the most affordable sports for kids to play.
2. Frisbee Golf
Photo by John Kinnander on Unsplash
Cost Range: $25 – $50
Frisbee golf, sometimes called disc golf, is a sport that involves throwing specialized frisbees into baskets or targets on a course. You can play it alone or with friends, and it's a fantastic way to have fun outdoors while getting a good cardio workout!
Frisbee golf is a relatively low-cost sport compared to other activities. The only gear that is required is a Frisbee disk and access to a course. As this sport becomes more and more popular, there are many courses available through local parks. It's also easy to learn, making it accessible to people of all ages and skill levels.
3. Yoga
Photo by Valeria Ushakova from Pexels
Cost Range: $50 – $400
Yoga is a physical, mental, and spiritual practice that has gained popularity in recent years. It involves a series of postures, breathing exercises, and meditation techniques that promote overall health and well-being.
Regularly practicing this activity can improve flexibility, strength, balance, and posture.
More and more parents and schools are embracing yoga due to its physical and mental benefits. In order to learn, your child will need a yoga mat, and some stretchy clothes!
The price of yoga classes can vary, but many yoga studios and community centers offer affordable or even free yoga classes for kids, making it a great low-cost option. In addition, there are many free online options to make practicing easier and more cost-effective!
4. Running/Cross-Country
Photo by RUN 4 FFWPU
Cost Range: $480 – $600
Whether it's jogging around the neighborhood or participating in a local 5k, running is an affordable sport for kids as it only requires a good pair of running shoes!
The equipment costs associated with cross-country are generally inexpensive, with most teams only requiring a pair of running shoes and possibly a team uniform.
The expense really starts to come in if your child gets to the level of competition that requires them to travel to compete.
5. Hiking
Photo by S&B Vonlanthen on Unsplash
Cost Range: $200 – $500
Exploring local parks and hiking trails is a great way for kids to stay active and enjoy the great outdoors. And, besides gear, it doesn't cost anything to enjoy this sport making it one of the cheapest sports out there.
The cost of gear, however, can vary, ranging from $200 to $500 or more, depending on the quality and type of gear you need. Gear you may need to purchase includes hiking boots, a backpack, hiking poles, and clothing (don't forget the base layers!).
Adjustable Hiking Hydration Backpack
Want help motivating your kids to practice their chosen sports? Download the award-winning App that motivates kids to practice!
6. Track and Field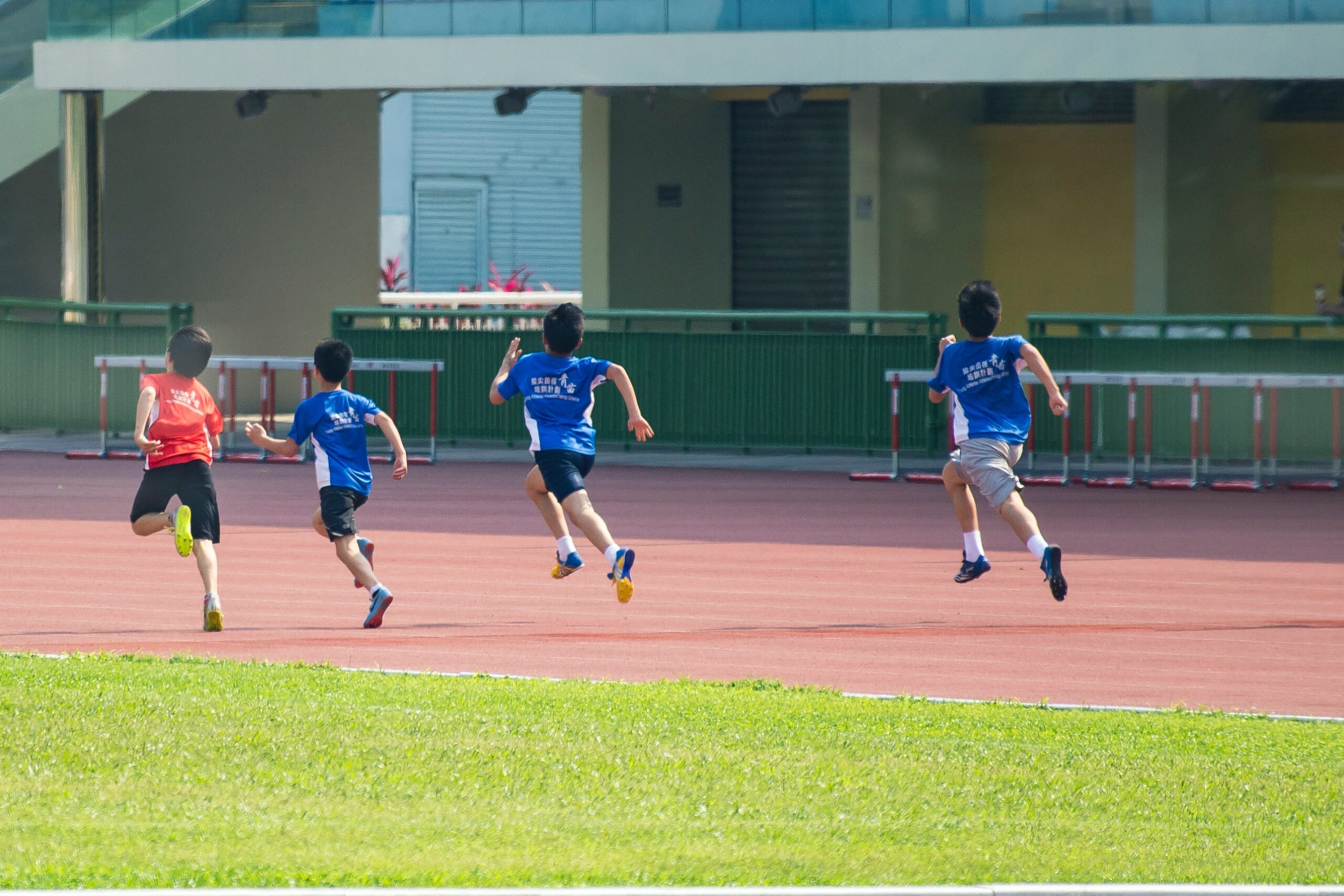 Photo by Jimmy Chan
Cost Range: $400 – 600
Not only is track and field a diverse and exciting sport with a variety of events to choose from, it is also a sport which is often very affordable.
Track and field is one of the most popular school team sports, so if your child is of middle-school or high-school age, being on a school team can cut down on registration costs.
Participating in this sport can run you (pun very much intended) from a few hundred dollars to several thousand dollars per year, depending on the level of competition and the athlete's needs. However, this sport requires minimal coaching at most levels, which will save you money in the long-run.
Just like cross-country, track requires minimal equipment; some shoes and a sturdy water-bottle should do it! However, for certain events like the pole-vault, jumping, or the discus, purchasing specific equipment for your child can go a long way towards helping them improve their game!
Discus – Available in Multiple Weights
7. Cycling
Photo by Guillaume de Germain on Unsplash
Cost Range: $120 – $2,000
Cycling is a fun and rewarding sport for kids that promotes physical fitness, independence, and a love of the outdoors.
However, it can also be an expensive sport, with costs associated with purchasing a bike, helmet, and other necessary gear like knee and elbow pads.
The overall cost of cycling varies greatly depending on what level your child competes at, and in general, cycling is a more affordable choice than many.
8. Skateboarding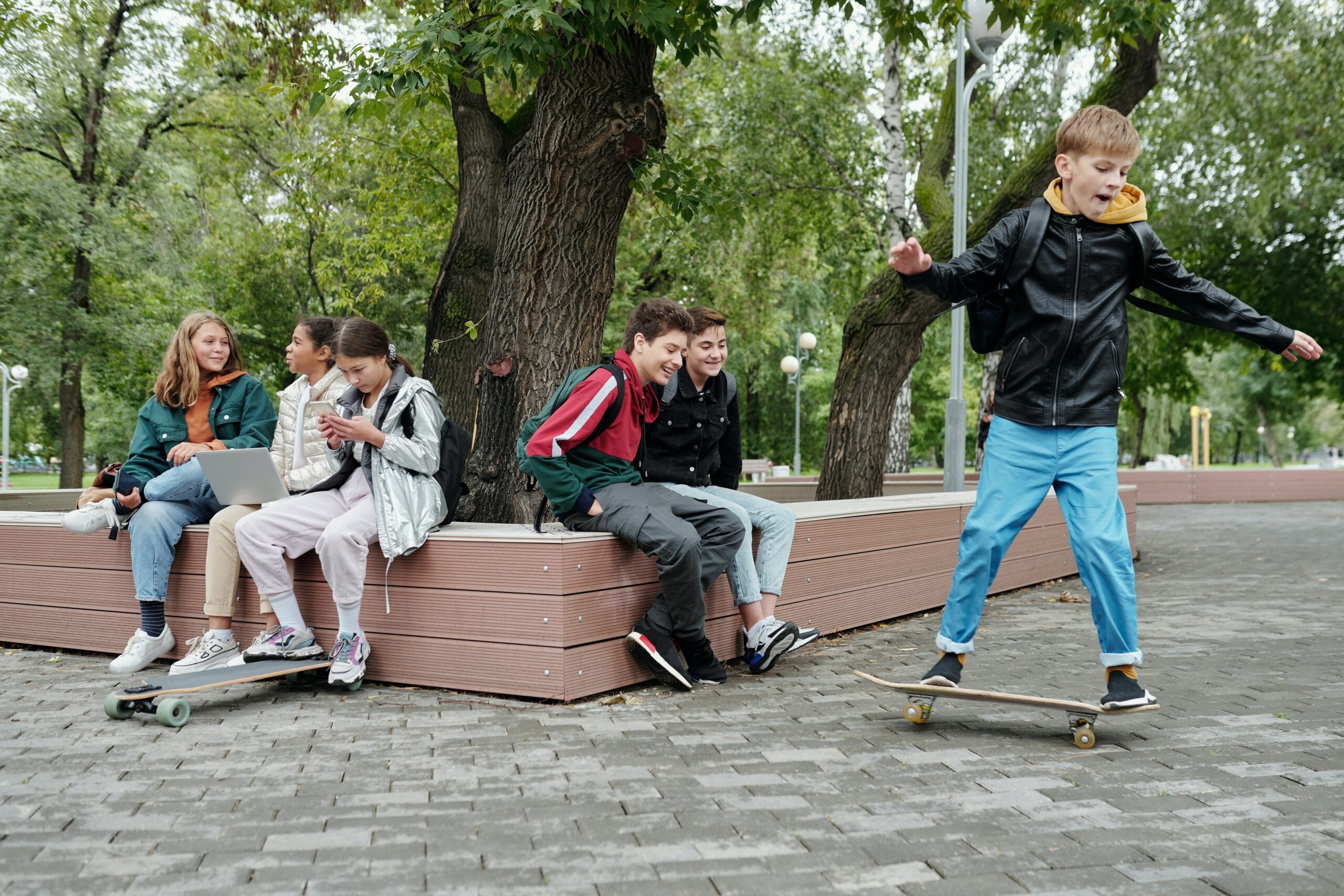 Photo by Max Fischer
Cost Range: $150 – $400
Get ready for kick-flips and ollies! Skateboarding provides numerous physical and mental benefits, including improved balance, coordination, and cardiovascular health.
One of the best things about skateboarding is how affordable and accessible it is.
Most neighborhoods have public skateparks full of kids ready to get their Tony Hawk on.
Unlike many other sports, you don't need a lot of expensive equipment to get started – but don't forget a helmet and protective pads, or your bank account (and your kid) will feel it later!
Kids Helmet and Protective Pads Set
9. Martial Arts
Photo by Ashima Pargal on Unsplash
Cost Range: $620 – $5,200
Martial arts are a unique type of sport that teach kids mental as well as physical lessons.
But before you sign your soon-to-be ninja up, be warned – the cost of equipment, classes, and even exam fees to earn belts can be a real kick to the wallet.
However, the lessons martial arts can teach your family are worth every penny.
Be on the lookout for community programs, like those through the YMCA, that offer free or reduced lessons!
Compared to many other sports that require frequent lessons, martial arts is a fairly affordable option.
10. Rollerblading
Photo by Chase Yi on Unsplash
Cost Range: $150 – $300
Rollerblading is a fun and exhilarating sport that involves gliding on wheels attached to boots. It can be played as a youth sport in various ways, such as speed skating, freestyle slalom, and hockey.
Not only is rollerblading an exciting and social activity, but it is also an affordable way to stay active and healthy.
Rollerblading can improve balance, coordination, cardiovascular health, and overall fitness. Plus, it's easy to get started with just a pair of skates and some protective gear. So, grab your skates and let's roll!
Kids Rollerblades – Multiple Colors
11. Table Tennis
Cost Range: $120 – $500
Ping Pong anyone? This is a fun and fast-paced sport played with small paddles and a lightweight ball on a table with a net.
It can be a great youth sport, as it can be played indoors and doesn't require a large amount of space or expensive equipment. Plus, it helps to develop hand-eye coordination, balance, and quick reflexes.
For a basic setup, you'll need a ping pong table, paddles, and balls.
A good quality beginner's paddle and ping pong balls can cost between $15 and $50.
Expect to spend between $100 to $500 or more for a standard ping pong table, depending on the quality and features.
If your child wants to join a club or organization for coaching and competitions, membership fees can vary greatly depending on the location and level of play.
12. Badminton
Cost Range: $210 – $350
Table badminton is a fun and affordable youth sport that can be played indoors or outdoors with a small group of friends. It's a modified version of traditional badminton, played on a table with a smaller net and lighter birdie.
Table badminton is easy to learn and improves hand-eye coordination, agility, and teamwork.
Plus, it's accessible to everyone, as all you need is a table, a net, and a few birdies and rackets, making it an affordable alternative to other organized sports.
Whether you're playing for fun or competing, table badminton is a great way to stay active and have a blast.
Badminton Racket and Birdie Set
Badminton Net Set for Backyard
13. Flag Football
Cost Range: $220 – $500
Flag football is a non-contact version of American football, where instead of tackling, players remove a flag from the opponent's belt to stop the play.
It's a fun and exciting sport that offers the same physical and social benefits as traditional football without the same risk of injury. Plus, it's very affordable to play, as it requires minimal equipment and can be played in almost any open space.
This makes it a great option for anyone who wants to get active and be part of a team without breaking the bank. So grab some friends and get out there for a fun game of flag football!
14. Softball/Baseball
Cost Range: $200 to $2,000
Baseball and softball are quintessential American sports that also happen to be a lot of fun!
These sports are not only great sports for kids, but they are ones that can foster a community well into adulthood. When looking into this sport for your child, keep in mind the cost of equipment and travel expenses – the gloves, bats, balls, and uniforms can get pricey.
However, since these sports are so popular, there are often community programs that offer discounts, options for purchasing used equipment, or even gear rentals if cost is a barrier.
15. Wrestling
Cost Range: $500 – $1,000
For wrestling, all you need are arms, legs, and a few basic pieces of equipment.
Typically this means a wrestling shoes, a singlet and a wrestling mat if your child wants to practice at home.
The cost of a wrestling mat can vary, but it's a one-time purchase that can last for years. Wrestling shoes and singlets can be relatively affordable, ranging from $20 to $100.
Wrestling shoes are also an essential part of the equipment as they provide support, grip and traction needed on the mat.
Headgear, while not always required, is strongly recommended to protect the wrestler's ears and head from injury.
With this sport, there can be fees associated with joining a wrestling club and attending tournaments.
Standard Boys Wrestling Singlet
16. Volleyball
Cost Range: $500 to $5,000
Volleyball is a fun and dynamic sport that involves two teams of six players on each side. The objective is to keep a ball in play over a net, and score points by making it touch the ground on the opponent's side.
Volleyball is great exercise and offers a variety of benefits, including improving cardiovascular health, building strength and endurance, and developing teamwork and communication skills.
The best part? It's a very affordable sport, requiring only a ball and a net to play. While a net can be an expensive initial purchase, it is one that will provide countless memories and is a great way to get your child – and the whole family/neighborhood – together for some athletic fun. So gather some friends and get active with volleyball – you won't regret it!
17. Swimming
Cost Range: $800 to $1,000+
Next up, swimming! Let's dive right in, shall we? Swimming is a foundational life skill, and competitive swimming is a great way to build friendships and get great exercise.
Swim gear like goggles, swim caps, and swimsuits can be a little pricey if your budget is tight.
However, the real culprit here is the cost associated with swimming lessons and pool memberships, which will vary widely by location.
18. Soccer
Cost Range: $600 – $5,500
Youth soccer teaches kids valuable life skills, like teamwork, communication, and how to handle disappointment when the referee makes a terrible call. Plus, it's great cardiovascular exercise!
In terms of equipment, soccer is relatively affordable, however, the cost of this sport varies widely depending on the location and the level of competition, and travel expenses can really add up.
In some cities, soccer league registration clocks in around $500, in others, $1,500 is the starting price tag.
19. Mountain Biking
Cost Range: $650 – $4,000
Mountain biking is a high-intensity sport and one that can be very fulfilling for kids.
It's also a fun way to explore the outdoors and connect with nature and fellow mountain-bikers.
However, there are some risks associated with mountain biking, including the potential for injury from falls or collisions with obstacles, as well as exposure to natural hazards like extreme weather conditions or wildlife.
To minimize these risks, it's important to make sure your child wears protective gear, stays within their skill level, and follows safety guidelines and trail rules.
The average cost of mountain biking can vary widely depending on a number of factors, such as the quality and quantity of gear, the type of terrain, and the frequency of rides. Mountain bikes can get expensive, so keep your eye out for used options!
20. Dance
Cost Range: $1,000 to $5,000+
Do you think you have what it takes to be a dance mom? Competitive dance offers children the opportunity to express themselves creatively while developing physical fitness, discipline, and teamwork.
Team fundraising is a hallmark of competitive youth dance. However, tuition fees, costumes, competition entry fees, and travel expenses make choosing to enroll your child in dance very much a financial decision.
In Conclusion: Sports Can Be Affordable
There are several factors to consider when thinking about the financial side of choosing a sport for your kiddo.
One of the most significant expenses is coaching fees, which can vary depending on the level of instruction and experience of the coach.
Another expense to consider is equipment. Some sports require specialized gear that can be costly, while others only require basic equipment like a ball or a pair of shoes.
The size of the team or level of instruction is another factor. Larger teams may require additional fees for travel, uniforms, and tournament fees. If the sport is typically offered through their school, it may be more affordable since the fees are often included in school registration.
Additionally, look for community programs or group lessons that offer scholarships or financial assistance to help offset costs.
Getting your child engaged in sports doesn't need to empty your wallet!
By considering these factors and being open to new types of sports that you may not have considered before, you can stay within your budget and provide your child with the opportunity to explore healthy activities.