Download the My First Nest Egg App now and start your child's journey to healthy financial habits.
Download the My First Nest Egg App for a two-week free trial and join our community of parents whose children are learning to achieve, save, and be generous.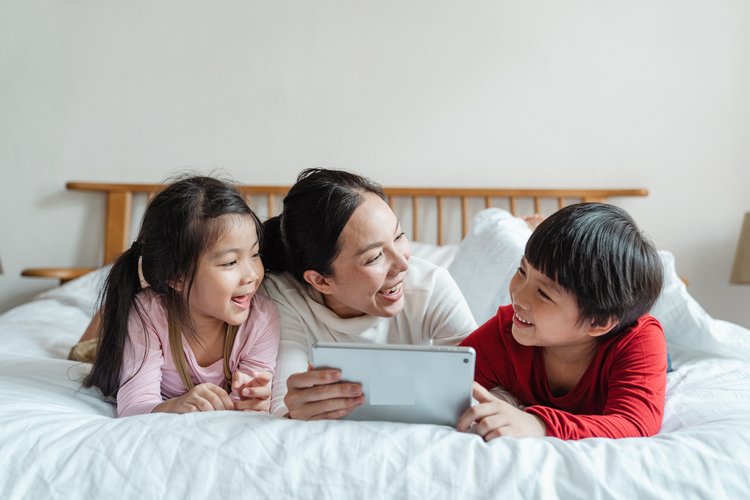 Money habits are set by age 7
The My First Nest Egg App gives parents the tools they need to grow their kids into successful adults. The creators are two moms, Nicolle and Annie, who spent hundreds of hours consulting with behavioral and psychological experts about how to instill necessary life skills in children. Using what they learned, they built the My First Nest Egg app for other families searching for an age-appropriate solution to teach financial literacy. My First Nest Egg helps you get your kids to make their beds, put on their own shoes, and get in the car on time while learning that compound interest can make or break financial success.
Motivate your kids to do their chores with a virtual piggy bank backed by science.
Young kids don't need real money! They lose cash. They're too young for debit cards. Parents end up buying the things they want on their own cards. But they still need to experience money to understand it.
My First Nest Egg offers an easy way for parents to track children's virtual funds in three accounts: Save, Spend and Give.
Teach goal setting and perseverance by letting your children earn allowance or rewards!
My First Nest Egg employs a patent-pending puzzle system to teach kids delayed gratification. Your child receives affirming instant gratification with each piece, but learns delayed gratification by waiting for their reward until the puzzle is completed.
Instead of a boring chart, your child's goal is put into a puzzle, which is then broken into a number of developmentally appropriate pieces. Your child earns their goal, piece by piece.
Screenshots of the My First Nest Egg App
Download the My First Nest Egg App Now
Parents and Kids Review the App
How My First Nest Egg Has Helped This Family
"The App has been really helpful to show our kids how they can earn their own money to buy the things they want. They understand that money needs to be earned, and it has helped to show them the value of working hard to get what they want. I have also noticed that they take much better care of the items that they buy using their own money earned on the app. Another thing is when they see something they like or really want, and they don't have enough money to buy it right away, it helps to teach them the value of saving as well as the value of working hard."
— Heather (Mom of 3)
"I used to nag my kids to do chores, now my kids beg for more chores."
— Jenn P. (Mom of 3)
"I'm saving for the BatMobile."
— Laila (Age 6)
"My First Nest Egg is so much fun!"
— Jason (Age 11)
"My First Nest Egg has been a game changer for our 3 year old. It limits constant treats in favor or puzzle pieces. He loves watching his puzzle come together."
— Sabrina G. (Mom of 2)
"I have been looking for a way to teach my children about money and responsibility. My First Nest Egg is perfect for this! The children love it and it's easy for all of us to use. It's a fun way for the family to connect."
— App Store Review
"This has ended the struggle in my house over getting ready for bed and school. My daughter understands that taking a bath, putting on pjs, and brushing her teeth will earn her a puzzle piece for a much wanted toy. Total genius."
— KMB758
"My kids are obsessed with this app."
— Rosemary S. (Mom of 2)
"The app is intuitive, easy to use, and so much fun!"
— jj_skis_92
"Game changer for our kids' achievement and behavior!"
— Sean5432
"This app has made our day to day lives so much easier. Our kids love earning with puzzles and keeping track of the money in their egg. This is a great way to teach kids the financial literacy they're missing in school."
— Sisi gx
"My kids have never been so motivated to help with chores and learn great habits. They are saving, being helpful and kind, and seeing the rewards build. Great tool for any family!"
— Erin (Mom of 2)
"As an educator, I love this app for my kiddo. The puzzles are user-friendly and so fun. I really am excited that this will inspire us to learn together how to better manage our money. This is a must-have for every parent."
— LitCoach32
"This is a great tool for teaching kids financial literacy! My kids love the puzzles and it makes doing chores rewarding and fun!! Highly recommended!"
— Spider 11 OK
The My First Nest Egg App Incentives Achievement
Achievement and depression are inversely related. Kids NEED to achieve, and My First Nest Egg gives them that opportunity, and recognizes them for those accomplishments. My First Nest Egg has a community page with monthly leaderboards, which track Achievements, Acts of Kindness, and Instances of Saving (not how much, how often). Kids can be inspired by other kids working towards the same lifelong good money habits. Privacy is important to us, so parents who opt-into leaderboards have an opportunity to assign their child a nickname, and pictures are never used.